tech•nol•o•gy n 2: applied science
Phased PointSource™ TECHNOLOGY
KF900 SERIES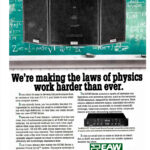 Click on image above to see the full size version
We're making the laws of physics work harder than ever.
If you think it's easy to develop full performance from ar enclosure this size (3.4 ft."), just listen to any other ultra-compact system.
If you already have, you've probably decided it's impossible for anything this small to combine high output with high definition. In that case, you really should hear our new KF300 Series.
These are true 3-way designs — unheard of in this size class. but a fundamental principle in all EAW full-range systems. An advanced midbass horn and ultra-rigid carbon-fiber cone driver cover the entire midband, producing over 130 dB SPL with lower distortion than comparable two-way systems. The custom-designed woofer uses a flat wire wound voice coil and mass:ve, optimally aligned magnet structure to achieve exceptional efficiency and surprisingly impressive bass.
True 3-way design also makes the KF300 Series a genuine Virtual Array™ system. Horizontal coverage is uniform from 400 Hz all the way to 18 kHz, and precisely matched to the enclosure angles of two KF300i's arrayed with our new SB330 subwoofer. The result is consistent, predictable coverage without comb filtering, lobing or not spots.
The KF300 Series includes a variety of hardware configurations and powering options, such as the horizontal AS300 enclosure, designed for distributed systems. Each version delivers coherent output, controlled directivity and wide full power bandwidth in concert sound fill coverage, theatrical systems, dance clubs, corporate theater and other demanding applications.
It was no small task to make so little do so much.
But at EAW, we insist that even our smaller systems embody big ideas.