The measurement mic you need when 20Hz-20kHz is not enough.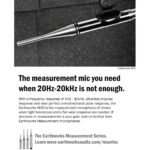 Click on image above to see the full size version
With a frequency response of 5Hz – 30kHz, ultra-fast impulse response and near perfect omnidirectional polar response, the Earthworks M30 is the measurement microphone of choice when tight tolerances and a flat wide response are needed. If precision in measurements is your goal, look no further than
Earthworks Measurement microphones.