FASCINATING HOW THE POWER TO ALTER NOTHING CHANGES EVERYTHING.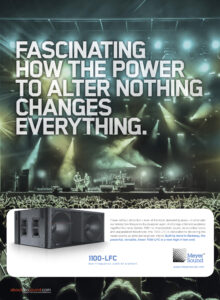 Click on image above to see the full size version
Power without distortion – even at the most demanding levels – is what sets our newest low-frequency loudspeaker apart. And brings artist and audience together like never before. With no characteristic sound, no muddled tones and unparalleled headroom, the 1100-LFC is dedicated to delivering the music exactly as artist and engineer intend. Built by hand in Berkeley, the powerful, versatile, linear 1100-LFC is a new high in low-end.