SUDDENLY – IT'S 1937!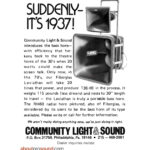 Click on image above to see the full size version
Community Light & Sound introduces the bass horn – with efficiency that harkens back to the theatre horns of the 30's when 20 watts could make the screen talk. Only now, in the 70's, our Fiberglas Leviathan will take 20
times that power, and produce 136 dB in the process. It weighs 115 pounds (less drivers) and nests to 30* length to travel – the Leviathan is truly a portable bass horn.
The RH60 radial horn pictured, also of Fiberglas, is considered by its users to be the best horn of its type available. Please write or call for further information.
We aren't really doing anything new, we're just doing it right.