PROFESSIONAL MIXERS FROM INTERFACE ELECTRONICS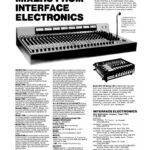 Click on image above to see the full size version
SERIES 100 four track mainframes are fully wired with input and output connectors, power supply, VU meters, and masters, for Series 100 plugin modules listed below, in the Model 8X4, also in the 16X4 and 24X4, which are folded aluminum pans for console or trunk mounting.
SERIES 200 two track stereo mixers come in standard 8 × 2 portable two track panpot mixer with Bauxendall equalizers, echo send, conductive plastic sliders, setup os-cillator, master and VU meters; can be slaved to give 16 or more inputs, also nicad battery option, 16 or 24 input versions on specialorder.
SERIES 300 offers eight track 16 and 24 input fully wired mainframes with power and XLR type input and output connectors, plug-in input modules with nonexclusive pushbutton track selection, panpot, echo send, cue (which doubles as monitor-only solo). three octave-wide peaking boost or cut equalizers with a choice of three frequencies on each, adjustable input gain and input pad, line /mike switch, and a six inch conductive plastic slider. Each module is provided with balanced 200 ohm mike input and bridging single ended line input, as well as module output. Using module outputs, more than eight tracks can befed. The fully modular system also includes masters and setup oscillator on the output module, and up to three mixdown-monitor modules with automatic transfer of cue to monitor if desired, and mixer-playback switch; the talk-slate module includes slate track select and talkback/slate microphone.
ALL INTERFACE ELECTRONICS mixers are capable of performance comparable to the finest professional equipment, and insure reliability through the use ofplug-in integrated circuits, plug- in modules, conductive plastic sliders, gold plated card and IC connectors, tantalum or computer-grade condensers.