PHASING vs FLANGING
the discernible difference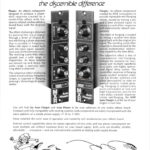 Click on image above to see the full size version
You will find the Auto Flanger and Auto Phaser to be wise additions to any studio effects board.
Compact and fully compatible with existing systems, both components are easily incorporated with the mere addition of a simple power supply (+ 15 to + 30V).
Once installed, the units' ease of operation and versatility will revolutionize your effects board.
External control capabilities allow for stereo operation of two units, and low power consumption ensures multiple use without excessive drain on your board supply. Both units are durable, reliable, affordable … innovative -and are internationally available at leading audio supply houses.