Reliability.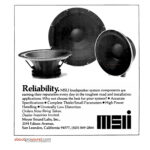 Click on image above to see the full size version
MS loudspeaker system components are earning their reputation every day in the toughest road and installation applications. Why not choose the best for your system?
• Accurate Specifications
• Complete Thiele/Small Parameters
• High Power Handling
• Unusually Low Distortion
Orders Now Being Taken.