IT TOOK JBL SCIENCE, A NITROGEN EXPLOSION, AND PURE TITANIUM TO GIVE YOU PERFECTED HIGH FREQUENCY SOUND.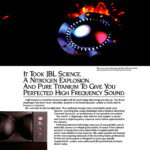 Click on image above to see the full size version
High frequency sound has always fought with the technology that brings it to the ear. The driver diaphragm has been most vulnerable, pushed to the breaking point, unable to hold uniform frequency response.
IBL scientists decided to fight back. They exploded nitrogen into a remarkable metal. pure
titanium, encirding their unique diaphragm with a vibratior-absorbing
"Diamond Surround so revolutionary it warranted its own patent
The result? A diaphragm that delivers and sustains a power and purity to high frequency response never before approached in the industry.
Perfecting titanium technology is just one of innumerable ways in which JBL science is re-shaping the quality of sound. From ultimate accuracy in laying down your initial tracks. to capturing the full power and subtlety of your final mix. IBL audio systems are focused on the most exacting demands of the recording studio professional.
To find out which system is designed to meet your specific requirements, contact your authorized |BL professional products dealer today.