FLY FIRST CLASS
FLY TURBOSOUND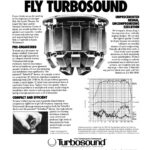 Click on image above to see the full size version
If your clients are as demanding as the engineers at Carnegie
Hall, the Apollo Theater, the Grand Ole Opry and the National Convention Center of Japan, you should audition the speakers permanently installed in these and other top clubs and concert halls from New York to Nashville to Kyoto: Turbosound.
PRE-ENGINEERED
To make your job easier, we design certified, load-rated flying and angling points as an integral element of every Turbosound full-range enclosure. And the innovations we've put inside our pre-engineered speaker modules will cut your planning and installation time significantly. The patented* TurboMid™" device, for example, enables our proprietary 10″ driver to reproduce a seamless midrange from 250-3700 Hz. Its unique internal geometry creates a much higher 'O' factor than conventional horns of equivalent frontal area. Tighter directivity greatly reduces interaction problems in multiple unit arrays, so planning an installation often involves nothing more complicated than laving coverage patterns over a set of blueprints.