Not all delays are equal
– not all equalizers are delays
The DP100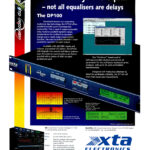 Click on the image above to see the full size version
Developed around our proprietary Audiocore dsp technology, the DP100 offers excellent benefits and is incomparably trustworthy. This 2 input 4 output assignable delay features excellent dynamic range, compensation for ambient temperature change and a handy delay measurement function. We even included a flexible 3 band parametric equalizer for each output.
Available with AES/EBU inputs and outputs, plus optical 1/O option, the DP100 will integrate into current and future systems – even the external control options are future-proofed with a choice of MIDI or open architecture port.
Our Windows™ based control software provides intuitive control over all parameters for this and future Audiocore series products, with up to 32 units controllable simultaneously.
Designed with meticulous attention to detail for predictable reliability, the DP100 will more than equal your requirements.