The Best in Bass. . .Just Got Better!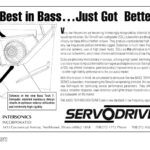 Click on image above to see the full size version
Very low frequencies are becoming increasingly recognized as essential to realistic sound reproduction. Our Servo Drive Loudspeaker (SDL) subwoofers are designed specifically for these difficult bottom octaves. They produce unprecedentedly high output at very low frequencies and are extremely rugged. Distortion is much lower than in conventional speakers, even at high power levels. SDLs are the alternative to traditional voice coil subwoofers, which have inherent performance limitations at low frequencies.
SLDs are genuinely revolutionary in concept, utilizing a high speed, extremely responsive rotary motor to replace the traditional magnet and fragile voice coil. Each generation of SDL has offered innovative, patented product improvements as our quest continues – to offer high fidelity performance to the pro audio market.
With this mission in mind, we are pleased to announce the new BASS TECHNOLOGY SERIES subwoofers. Incorporating the ServoDrive operating principle, this series uses new techniques for optimizing several performance parameters. They offer higher output, smoother response, lower distortion and tighter phase characteristics than any pro subwoofer on the market.